Ngaruawahia
Ngaruawahia is a small rural town, located just north of Hamilton City, in the Waikato region of New Zealand. Ngaruawahia is home to the magnificent Turangawaewae Marae. more
Ngaruawahia Directory Information
Please choose from the main accommodation, attractions, tours, transport or visitor information categories below for Ngaruawahia, Waikato, New Zealand.
Find By
Mobile-friendly - Hill country Kiwi sheep farm tour experience exclusive to LANDMARKS. Paerangi is a 1000 acre sheep and cattle farm, situated amongst picturesque hills and valleys of the north Waikato, just 90 minutes drive from Auckland City. Enjoy a hands on tour and authentic farm lunch complimented with gold-medal New Zealand wines. Half and Full-day tour options departing from Auckland.

Cycle the Mighty Waikato Te Awa with the team at River Riders. While cycling alongside NZ's longest river from Ngaruawahia in the North to Lake Karapiro in the South, you'll experience culture, history, heritage, food, coffee and more.
Where Do You Want To Go?
This New Zealand map does not display any listings on the map itself but may provide navigation by clicking on map symbol. Alternatively select a category or a region from the main links to find and view tourism businesses.
View 5 events near Waikato - Ngaruawahia
Christmas Special - Murder Mystery Event!
From: Thu 14th Dec 2023
** If you have a large group, please send an inquiry to events@confinement.co.nz who can help you organize a booking/exclusive session** The daughter of a prominent family has been found dead on the eve of a large ...
Where: Woodlands Estate, Ngaruawahia, North Waikato
Address: 42 Whitikahu Road, Ngaruawahia, North Waikato
From: 6:00pm on Thursday 14th December 2023
To: 9:30pm on Saturday 16th December 2023
Te Puna Wai Walking Tour
From: Sat 2nd Dec 2023
We have created a unique and distinctive walking tour to provide an opportunity for people to learn the cultural and historical stories of the Waikato people, the Kiingitanga and Tuurangawaewae marae. As custodians of ...
Where: Kiingitanga Reserve, Ngaruawahia, North Waikato
Address: 2 Eyre Street, Ngaruawahia, North Waikato
From: 10:00am on Saturday 2nd December 2023
To: 5:00pm on Saturday 30th December 2023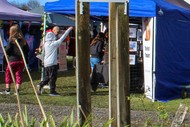 Ngaruawahia Creatives Summer Market
From: Sun 19th Feb 2023
We are excited to announce we are back with Ngaruawahia Creatives Summer Market starting with October 1st. NCSM is a summer market and will be running on the 1st Sunday of every month between October and March at the ...
Where: Te Whare Toi o Ngaaruawaahia, Ngaruawahia, North Waikato
Address: 18 Herschel Street, Ngaruawahia, North Waikato
From: 9:00am on Sunday 19th February 2023
To: 1:00pm on Sunday 3rd March 2024
Markets on Woodlands Oval
From: Sun 8th Oct 2023
Markets on the Oval are back! Woodlands monthly markets are every second Sunday of the month. Situated in front of Woodlands Garden Grove Cafe, the markets will have over 60 different stalls, from hand crafted ...
Where: Woodlands Estate, Ngaruawahia, North Waikato
Address: 42 Whitikahu Road, Ngaruawahia, North Waikato
From: 9:00am on Sunday 8th October 2023
To: 1:00pm on Sunday 11th February 2024
Antique & Collectables Fair
From: Sat 20th Jan 2024
We're excited to be working with Nick & Marie Turtle of Portush Antiques to bring a 2 day Antique and Collectables fair to Woodlands Estates Wisteria Room. Entry is $3 on the day Doors open from 10am
Where: Woodlands Estate, Ngaruawahia, North Waikato
Address: 42 Whitikahu Road, Ngaruawahia, North Waikato
From: 10:00am on Saturday 20th January 2024
To: 4:00pm on Sunday 21st January 2024