Waipara Valley
The Waipara Valley is a stunning wine growing region in northern Canterbury just north of Christchurch. Waipara Valley wineries are famous for their premium Pinot noir, Riesling and Chardonnay. more
The Waipara Valley doesn't just offer picturesque wineries, but also other awesome attractions like horse trekking, the scenic Weka Pass Railway and a range of relaxing country lodges and accommodation.
Take a moment to send a Canterbury related E-Postcard to your friends.
Find By
Where Do You Want To Go?
This New Zealand map does not display any listings on the map itself but may provide navigation by clicking on map symbol. Alternatively select a category or a region from the main links to find and view tourism businesses.
View 290 events near Canterbury - Waipara Valley
Quiz Tuesday at Bridies
From: Tue 10th Oct 2023
Bridie's Bar and Bistro's newest quiz night promises to be an evening of trivia you do NOT want to miss! With five rounds of trivia, you and your squad will negotiate engaging, relevant and left-field questions that ...
Where: Bridie's Bar & Bistro, Christchurch
Address: 401 Worcester Street, Linwood, Christchurch
From: 7:30pm on Tuesday 10th October 2023
To: 9:30pm on Tuesday 19th December 2023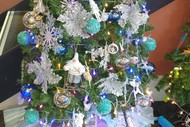 Soroptimist Christmas Tree Festival
From: Mon 4th Dec 2023
Christmas Tree Festival with over 30 trees decorated by schools, community groups and local business. The trees fill the Waimakariri council foyer with a gorgeous Christmas spirit with colour and lights galore. The ...
Where: Waimakariri District Council, Rangiora, Waimakariri
Address: 215 High St, Rangiora, Waimakariri
From: 9:00am on Monday 4th December 2023
To: 4:30pm on Friday 15th December 2023
The Flight Before Christmas
From: Tue 12th Dec 2023
The Little Andromeda Annual Christmas Show (in conjunction with Tusk Puppets) Written by Cally Castell and Rebekah Head Directed by Hillary Moulder It's December, which means it's time for the annual Little ...
Where: Little Andromeda Theatre, Christchurch
Address: Level 1, 134 Oxford Terrace, Christchurch
From: 7:00pm on Tuesday 12th December 2023
To: 8:00pm on Saturday 23rd December 2023
Christmas Carnage
From: Wed 6th Dec 2023
The Court Jesters present Christmas Carnage! Prepare for a night of charming carols, Christmas chaos and epic comedy like never before. Step into a world of holiday magic as four experienced jesters take the stage, ...
Where: Court Theatre, Christchurch
Address: Bernard St, Addington, Christchurch
From: 6:30pm on Wednesday 6th December 2023
To: 7:45pm on Saturday 23rd December 2023
Santa Photos
From: Sun 3rd Dec 2023
Our magical santa photo experience is a must for families who want to create lasting memories. Imagine the joy on your children's faces as they sit on Santa's lap and share their wish lists. This year The ...
Where: The Palms Shopping Centre, Christchurch
Address: Corner Marshland & New Brighton Roads, Shirley, Christchurch
From: 11:00am on Sunday 3rd December 2023
To: 5:00pm on Sunday 24th December 2023
Shands Rd Xmas Experience
From: Sat 2nd Dec 2023
An amazing walk through Xmas village, there's also the Gingerbread village, and a winter village. A massive Lightshow syncronised to great rock music. Fantasic displays of disney xmas characters, unique animated xmas ...
Where: Christchurch Christmas Lightshow, Christchurch
Address: 650 Shands RD, Christchurch
From: 8:30pm on Saturday 2nd December 2023
To: 11:30pm on Saturday 30th December 2023
NotEnoughLights Christmas Light show
From: Fri 1st Dec 2023
400,000+ colourful lights decorating a residential property and 99.99% of the front yard Dancing lights flash in time with the music with lots of patterns and colours. The best place to park is around Kathleen ...
Where: Notenoughlights Light Show, Christchurch
Address: 8 Dunluce Place, Christchurch
From: 8:30pm on Friday 1st December 2023
To: 10:30pm on Sunday 31st December 2023
Something Rotten!
From: Sat 25th Nov 2023
Australasian Premiere Welcome to the Renaissance and all that jazz! It's England 1595 and playwright brothers, Nick and Nigel Bottom can't compete with the rockstar popularity of a certain William ...
Where: The Court Theatre, Christchurch
Address: 36c Clarence St, Christchurch
From: 7:30pm on Saturday 25th November 2023
To: 10:00pm on Saturday 27th January 2024
Christchurch East Business Networking Meeting
From: Tue 24th Jan 2023
Do you have a business in the northeast area of Christchurch? We meet every Tuesday at 7.45 am in the relaxed vibe of The Daily on Suffolk close to the city. "Christchurch East Networkers" is your weekly ...
Where: The Daily on Suffolk, Christchurch
Address: 2 Suffolk Street
From: 7:45am on Tuesday 24th January 2023
To: 8:45am on Tuesday 12th December 2023
Kaiapoi Business Networking Meeting - 7.30am
From: Tue 17th Jan 2023
Do you have a business in Kaiapoi or the surrounding North Canterbury area? Would you like to meet other local business owners to build local connections? Kimberley leads this Kaiapoi 7.30am Tuesday group from a ...
Where: Rivertown Cafe, Kaiapoi, Waimakariri
Address: 77 Williams Street, Kaiapoi, Waimakariri
From: 7:30am on Tuesday 17th January 2023
To: 8:30am on Tuesday 12th December 2023