Leigh
Leigh is a small sleepy coastal town about 92 kilometres from the Auckland city centre, but still lies within legal city limits. Leigh boasts stunning rural and coastal views and is the closest settlement to the Cape Rodney-Okakari Point Marine Reserve. Leigh's primary industry is fishing exporting fish both nationally and internationally. more
The Cape Rodney-Okakari Point Marine Reserve is home to an abundance of fish and popular for diving and snorkelling. Glass-bottom boat trips to observe the sealife and surfing are also popular activities in Leigh. Book your diving and snorkeling adventure in Leigh and discover the strange and magical world beneath the waves.
Take a moment to send an Auckland related E-Postcard to your friends.
Find By
Mobile-friendly - Bounty Hunter captain - Aaron Covacich brings more than 22 years of hands-on-experience in the charter fishing industry. 'World famous in New Zealand', Aaron has extensive knowledge of the best fishing locations in the wider Hauraki Gulf region including The Mokohinau Islands, Great Barrier and Little Barrier and Kawau Islands. Aaron is dedicated to providing you an exceptional adventure.

Mobile-friendly - 'Coastel' self-contained Motel Accommodation, Boatshed style cabins and a short stay Motorhome and Caravan RV Park. Leigh Central is an accommodation and events venue on the pristine Matakana Coast, close to Goat Island Marine Reserve. Function Spaces and Commercial Kitchen. Now completely renovated and transformed from its former life as the old Leigh Hotel. Only one hour north of Auckland.
Where Do You Want To Go?
This New Zealand map does not display any listings on the map itself but may provide navigation by clicking on map symbol. Alternatively select a category or a region from the main links to find and view tourism businesses.
View 3 events near Auckland - Leigh
Connected 2024 - the Only Nye Bash This Year
From: Sun 31st Dec 2023
Auckland, this New Year's Eve 2023 - Connected is the destination for your ultimate year-end celebration! Join us as at the iconic Leigh Sawmill for our New Year's Eve extravaganza, welcoming 2024 with the most ...
Where: Sawmill Cafe, Leigh, Auckland
Address: 142 Pakiri Rd, Leigh, Auckland
From: 8:30pm on Sunday 31st December 2023
To: 2:00am on Monday 1st January 2024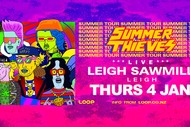 Summer Thieves - Album Release Tour
Thu 4th Jan 2024
Tickets on sale now, support to be announced New Zealand's favorite indie rock band, Summer Thieves, is thrilled to announce their highly-anticipated summer tour across the beautiful landscapes of New Zealand. The ...
Where: Sawmill Cafe, Leigh, Auckland
Address: 142 Pakiri Rd, Leigh, Auckland
From: 7:00pm on Thursday 4th January 2024
To: 11:59pm on Thursday 4th January 2024
Daffodils X Wiri Donna's Summer Sprint
Fri 12th Jan 2024
Summer Sprint with Daffodils and Wiri Donna - Leigh Sawmill, 12th January 2024 Wiri Donna and Daffodils are heading to Leigh this Jan to kick off 2024 before both bands release new music. 2023 was huge for both ...
Where: Sawmill Cafe, Leigh, Auckland
Address: 142 Pakiri Rd, Leigh, Auckland
From: 8:00pm on Friday 12th January 2024
To: 11:30pm on Friday 12th January 2024