Eketahuna
Eketahuna is a small town located south of Palmerston North, in the Manawatu region. Nestled at the foot of the Tararua Ranges, Eketahuna attractions include the Pukaha Mount Bruce National Wildlife Centre, Tararua Forest Park and the Makakahi River. more
Eketahuna Directory Information
Please choose from the main accommodation, attractions, tours, transport or visitor information categories below for Eketahuna, Manawatu, New Zealand.
Find By
What Do You Want To Do?
Mobile-friendly - New Zealand's Pukaha National Wildlife Centre is renowned for conservation breeding of our threatened wildlife, conservation education and forest restoration. Demonstrating that everyone can make a difference in restoring kiwi, kokako, kaka and other native wildlife once present in our forest and returning the dawn chorus for everyone to enjoy.
Where Do You Want To Go?
This New Zealand map does not display any listings on the map itself but may provide navigation by clicking on map symbol. Alternatively select a category or a region from the main links to find and view tourism businesses.
View 2 events near Manawatu - Eketahuna
Little Ears Storytime
From: Thu 12th Oct 2023
What's more fun for your under 5-year-olds than story time! Bring your littles along to hear some stories and perhaps make connections with other children/caregivers. Each session has a theme so you can perhaps continue ...
Where: Eketahuna Library, Eketahuna, Tararua
Address: 31 Main St, Eketahuna, Tararua
From: 11:00am on Thursday 12th October 2023
To: 11:30am on Thursday 21st December 2023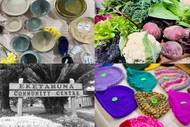 Eketahuna 'Super' Market
From: Sun 13th Aug 2023
Lots of food, music, art, veg, craft & more. Held the second Sunday of each month. Every month on the 2nd Sunday of the month, until further notice. Contact Kate Mobile 027 363 6234 Email ...
Where: Eketahuna Community Centre, Eketahuna, Tararua
Address: Haswell Street, Eketahuna, Tararua
From: 10:00am on Sunday 13th August 2023
To: 2:00pm on Sunday 10th December 2023