Canterbury
Welcome to Canterbury! A place where coastal and mountain experiences combine to make a place where there's something hair-raisingly thrilling, day-dreamingly relaxing and breath-takingly beautiful for every traveller. In Canterbury you'll find many worlds within one region. Popular tourism destinations in Canterbury include Christchurch City, Hanmer Springs, Timaru, Lake Tekapo and Mt Hutt. more
Canterbury is the South Island's largest region, it is the region of stark contrasts. The region is home to both New Zealand's largest plains – the Canterbury plains with intensive pastoral farming and New Zealand's highest mountains – Mount Cook. It is home to the South Island's largest city of Christchurch and some of the country's most remote wildernesses. It is a land of dramatic mountain ranges, cascading rivers, unbelievably glacial-flour-coloured lakes, rolling hills, flat plains, dramatic coastlines, glaciers, wineries and much more.
Enlarge your itinerary with Canterbury's huge range of activities including numerous ski resorts, skydiving, bungy jumping, hot air ballooning, trout and salmon fish, chartered sea fishing, whale, dolphin and seal watching, hot-water springs, hiking, Lord of the Rings tours, farm tours, jetboating, wine tasting, glacier climbing, mountaineering, mountain biking to name only a few activities. Canterbury has a selection of activities for everyone including thrill-seekers, families, backpackers, honeymoon makers, groups and elderly.
The mid coastal region of Canterbury is dominated by the large pastoral Canterbury plains, Christchurch and numerous towns. The Canterbury plains are intensively farmed with dairy, sheep, beef and deer faming and is the economic and population centre of the South Island. The town Methven (located on the Canterbury plains at the foot of the towering mountains as they ascend dramatically out of the plain) is the gateway for the popular Mt Hutt ski resort – a thirty minute drive away.
The north is mountainous and dry, boasting most of the region's wineries – especially in the Waipara region. Secluded in its own valley is the South Island's most popular hot-springs resort as well as popular ski resort – Hanmer Springs. And to the far north is the popular coastal town of Kiakoura – a prime base for a host of wildlife encounters and famous for its whales, fur seals and dolphins who live permanently on this coast. Kiakoura is scenic mountainous region with a dramatic coastline showcasing many mountains descending down into the sea. Take a drive long the Kiakoura coastal highway you are sure to see many fur seals resting on the rocks.
The western inland regions (also known as "McKenzie Country") are dry and mountainous. This region includes many of New Zealand's alpine lakes including famous lakes of Tekapo and Pukaki – these lakes are unique in New Zealand for their distinctive glacial hue. This region is dominated by towering snow-capped mountain ranges, deep glacier cut valleys, tussock grasslands and wild gushing rivers. Mount Cook, New Zealand's tallest mountain, is found here and from it tumbles New Zealand's longest glacier – the Tasman Glacier – measuring 27 kilometres long. Mt. Hutt is a popular ski resort found close to the Canterbury plains region. Two of the three mountain passes crossing east-west across the Southern Alps are found here namely, Arthurs Pass and Lewis Pass – these are two of the most spectacular alpine drives in the country.
Canterbury's south is dominated by scenic rolling hills and pastoral farming. The largest town is Timaru.
Canterbury has a massive range of accommodation options encompassing five-star accommodation, budget motor lodges and motels, luxury alpine lodges and retreats, cheap backpacker accommodation, camping grounds, self-catering apartments, villas, among other options. Regardless of your needs – be it conferencing or assessable accommodation – Canterbury has the right accommodation options for you.
Take a moment to send a Canterbury related E-Postcard to your friends.
Find By
Where Do You Want To Go?
This New Zealand map does not display any listings on the map itself but may provide navigation by clicking on map symbol. Alternatively select a category or a region from the main links to find and view tourism businesses.
View 317 events near Canterbury
Quiz Tuesday at Bridies
From: Tue 10th Oct 2023
Bridie's Bar and Bistro's newest quiz night promises to be an evening of trivia you do NOT want to miss! With five rounds of trivia, you and your squad will negotiate engaging, relevant and left-field questions that ...
Where: Bridie's Bar & Bistro, Christchurch
Address: 401 Worcester Street, Linwood, Christchurch
From: 7:30pm on Tuesday 10th October 2023
To: 9:30pm on Tuesday 19th December 2023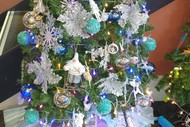 Soroptimist Christmas Tree Festival
From: Mon 4th Dec 2023
Christmas Tree Festival with over 30 trees decorated by schools, community groups and local business. The trees fill the Waimakariri council foyer with a gorgeous Christmas spirit with colour and lights galore. The ...
Where: Waimakariri District Council, Rangiora, Waimakariri
Address: 215 High St, Rangiora, Waimakariri
From: 9:00am on Monday 4th December 2023
To: 4:30pm on Friday 15th December 2023
Santa Photos
From: Sun 3rd Dec 2023
Our magical santa photo experience is a must for families who want to create lasting memories. Imagine the joy on your children's faces as they sit on Santa's lap and share their wish lists. This year The ...
Where: The Palms Shopping Centre, Christchurch
Address: Corner Marshland & New Brighton Roads, Shirley, Christchurch
From: 11:00am on Sunday 3rd December 2023
To: 5:00pm on Sunday 24th December 2023
Shands Rd Xmas Experience
From: Sat 2nd Dec 2023
An amazing walk through Xmas village, there's also the Gingerbread village, and a winter village. A massive Lightshow syncronised to great rock music. Fantasic displays of disney xmas characters, unique animated xmas ...
Where: Christchurch Christmas Lightshow, Christchurch
Address: 650 Shands RD, Christchurch
From: 8:30pm on Saturday 2nd December 2023
To: 11:30pm on Saturday 30th December 2023
NotEnoughLights Christmas Light show
From: Fri 1st Dec 2023
400,000+ colourful lights decorating a residential property and 99.99% of the front yard Dancing lights flash in time with the music with lots of patterns and colours. The best place to park is around Kathleen ...
Where: Notenoughlights Light Show, Christchurch
Address: 8 Dunluce Place, Christchurch
From: 8:30pm on Friday 1st December 2023
To: 10:30pm on Sunday 31st December 2023
Something Rotten!
From: Sat 25th Nov 2023
Australasian Premiere Welcome to the Renaissance and all that jazz! It's England 1595 and playwright brothers, Nick and Nigel Bottom can't compete with the rockstar popularity of a certain William ...
Where: The Court Theatre, Christchurch
Address: 36c Clarence St, Christchurch
From: 7:30pm on Saturday 25th November 2023
To: 10:00pm on Saturday 27th January 2024
Good Home Prebbleton Quiz Night
From: Tue 25th Apr 2023
Every Tuesday is quiz night at one of Christchurch's best venues - The Good Home Prebbleton! Kicking off at 7pm, the quiz offers five rounds of the big screen or damn good trivia that's not too hard, not too easy, but ...
Where: The Good Home, Christchurch
Address: Unit 11/563 Springs Road, Prebbleton 7604, Christchurch
From: 7:00pm on Tuesday 25th April 2023
To: 9:00pm on Tuesday 3rd December 2024
Leadership & Management Part 1
From: Thu 29th Jun 2023
Learn how to make the transition from buddy to the boss and lead a successful team. Managing staff can be a very rewarding, interesting and fun role, it can also be a tough and demanding job. Between managing your own ...
Where: BreakFree on Cashel, Christchurch
Address: 165 Cashel Street, Christchurch
From: 8:30am on Thursday 29th June 2023
To: 5:00pm on Tuesday 5th December 2023
Peninsula Photography and Wood
From: Sat 2nd Dec 2023
This wonderful photography and wood exhibition is open to the public over the next 3 weeks. It is sometime since the Akaroa Gallery show pieced photography at its finest. Take a short scenic trip to Akaroa and include ...
Where: Orion Powerhouse Gallery, Banks Peninsula, Christchurch District
Address: 1 Rue Pompallier, Akaroa, Banks Peninsula, Christchurch District
From: 10:00am on Saturday 2nd December 2023
To: 4:00pm on Thursday 21st December 2023
Great Museum Santa Search
From: Sat 25th Nov 2023
Santa's back! The much-loved Great Museum Santa Search returns once again. Can you find them all? The festive family favourite returns at Canterbury Museum at CoCA. Will you be able to find all the special Santas ...
Where: Canterbury Museum, Christchurch
Address: Rolleston Ave, Christchurch
From: 9:00am on Saturday 25th November 2023
To: 5:30pm on Sunday 7th January 2024
What Do You Want To Know?