Karikari Peninsula
Lined with stunning beaches and glistening bays, the Karikari Peninsula is a long narrow piece of land located west of Doubtless Bay in the Northland Region of New Zealand. Here you can swim, dive, fish, walk or simply relax on a beautiful white-sand beach, surrounded by the glistening waters of the Pacific Ocean. more
Attractions on the Karikari Peninsula include Maitai Bay, historical Puwheke Beach, Karikari Beach, Waikato Bay, and Puwheke Scenic Reserve. Discover ancient kauri gum-digging remnants at Lake Ohia, sheltered swimming bays, great fishing and idyllic views at Maitai Bay, and a championship golf course and award winning vineyard at Carrington Resort and Karikari Estate.
Find By
What Do You Want To Do?
Fully-Supported, 5 star all-inclusive biking and hiking tours, experience the real Northland! Quality ebikes, wonderful scenery, first class accommodation, history, culture, excellent food. Our tours get you get off the beaten track, experience sights you can't get to by car, leave knowing you have ventured into the heart of Northland. The subtropical climate allows tours to run all year round.
Where Do You Want To Go?
This New Zealand map does not display any listings on the map itself but may provide navigation by clicking on map symbol. Alternatively select a category or a region from the main links to find and view tourism businesses.
View 100 events near Karikari Peninsula
Indiana Williamson & Matthew Seinafo
Tue 5th Dec 2023
In association with the Kerikeri retirement village, join us for a lunchtime concert featuring Indiana (Violin) and Matthew (Piano). They are an extraordinary musical duo who have been members of the Specialist Music ...
Where: Turner Centre, Kerikeri, Bay of Islands
Address: 43 Cobham Rd, Kerikeri, Bay of Islands
From: 12:30pm on Tuesday 5th December 2023
To: 11:59pm on Tuesday 5th December 2023
Ngā Ipu Kōrero - Maunga Kura Toi Graduate Exhibition
From: Sun 26th Nov 2023
Join us for the class of 2023 graduating exhibition for Maunga Kura Toi, Bachelor of Māori Arts. This Exhibition Project Plan is a collective contribution from 12 practitioners in the 3 spaces of Maunga Kura Toi kei ...
Where: Geoff Wilson Gallery, Whangarei
Address: NorthTec, 57 Raumanga Valley Road, Whangarei
From: 4:00pm on Sunday 26th November 2023
To: 2:00pm on Friday 8th December 2023
Nourish The Soul Exhibition, 29 November 23 to 13 January 24
From: Wed 29th Nov 2023
In these uncertain times, art in all its forms can often provide solace and inspiration, and a way of escape. Art gives meaning and helps us understand our topsy-turvey world – it's a force which helps shape ...
Where: Little Black Gallery, Kerikeri, Bay of Islands
Address: 394B Kerikeri Rd, Kerikeri, Bay of Islands
From: 10:00am on Wednesday 29th November 2023
To: 4:00pm on Saturday 13th January 2024
Paint By Numbers - Geological Map Project
From: Fri 20th Oct 2023
Te Riu-a-Māui / Zealandia + The Great Te Tai Tokerau Northland 'Paint by Numbers' Geological Map Project - A Community Collaboration. This story begins Over 250 million years ago when the bedrock of ...
Where: Kiwi North Museum, Kiwi House & Heritage Park, Whangarei
Address: 500 State Highway 14, Maunu, Whangarei
From: 10:00am on Friday 20th October 2023
To: 4:00pm on Thursday 29th February 2024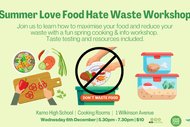 Summer Love Food Hate Waste Cooking & Info Workshop
From: Wed 6th Dec 2023
Learn how to love your food and hate the waste! We will be showing how you can save time and money by making the most of the food you buy. With a bit of forward planning here, and a dash of savvy storage there; you ...
Where: Kamo High School, Whangarei
Address: Wilkinson Avenue, Kamo, Whangarei
From: 5:30pm on Wednesday 6th December 2023
To: 7:00pm on Tuesday 13th February 2024
The Amazing Youth Volunteer Race: Christmas Edition
Thu 7th Dec 2023
FREE - KAI PROVIDED - SIGN UP NOW! Starting Point: CBD under the canopy, Cameron Street Mall. Join the race and make a difference! The amazing volunteer race is a fun and impactful way to give back to your ...
Where: Whangārei City Centre, Whangarei
Address: 57 Cameron Street, Whangārei 0110, Whangarei
From: 4:00pm on Thursday 7th December 2023
To: 7:00pm on Thursday 7th December 2023
Cinderella A Pantomime!
From: Fri 24th Nov 2023
The original rags to riches story! Prince Charming returns from his ten-year travels abroad only to no longer want to be Prince! Against her evil stepmother and evil step-sister's demands, Cinderella abandons her ...
Where: Octagon Theatre, Whangarei
Address: 13 Aubrey St, Regent, Whangarei
From: 6:45pm on Friday 24th November 2023
To: 10:45pm on Saturday 9th December 2023
Whittling Well
From: Thu 27th Jul 2023
Come and whittle with company. Bring your own knife or borrow one. Get tips and advice, learn from each other. Have a cuppa. A wishing well is where you ask for magic, the whittling well is where you make your own. ...
Where: Anō Anō, Kaitaia, Far North
Address: Shop 6 Bank Street, Kaitaia, Far North
From: 2:00pm on Thursday 27th July 2023
To: 3:00pm on Thursday 21st December 2023
The Nukes Reunion Concert - The Original 3 Along w' Jay P
Fri 8th Dec 2023
Way back yonder in 2008 three fully grown men banded together and embarked upon a perilous musical journey with no particular destination. Their mission? To write and perform original music using only the humble ...
Where: ONEONESIX, Whangarei
Address: 116a Bank Street, Whangarei
From: 7:30pm on Friday 8th December 2023
To: 9:45pm on Friday 8th December 2023
Yule Christmas Market 2023
Fri 8th Dec 2023
Whangarei's best little Christmas market is back for 2023 and we're going bigger, better and more festive this year! The Yule Christmas Market in collaboration with Whangarei District Council is happening Friday 8 ...
Where: William Fraser Memorial Park, Whangarei
Address: Riverside Drive, Whangarei
From: 5:30pm on Friday 8th December 2023
To: 9:00pm on Friday 8th December 2023