Tolaga Bay
Tolaga Bay is a small seaside town and bay, located northeast of Gisborne City, in the Eastland region. A popular holiday destination, Tolaga Bay offers a range of attractions including the Tolaga Bay Wharf, Tokomaru Bay, Uawa River, Cook's Cove and Pourewa Island. more
Tolaga Bay Directory Information
Please choose from the main accommodation, attractions, tours, transport or visitor information categories below for Tolaga Bay, Eastland, New Zealand.
Find By
What Do You Want To Do?
Extending far into the deep water of Tolaga Bay, this wharf is a legendary place to dangle a fishing line. Allow half an hour to walk to the end of New Zealand's longest wharf and back. At 660 metres in length, this is no ordinary pier.
Where Do You Want To Go?
This New Zealand map does not display any listings on the map itself but may provide navigation by clicking on map symbol. Alternatively select a category or a region from the main links to find and view tourism businesses.
View 1 events near Eastland - Tolaga Bay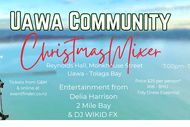 Uawa Christmas Mixer
From: Sat 16th Dec 2023
After a year of adversity let's get together and enjoy an evening of entertainment have a dance and let our hair down before Christmas is upon us. Reynolds Hall Tolaga Bay - 7pm - Midnight Entertainment from Delia ...
Where: Reynolds Hall, Tolaga Bay, East Cape
Address: 11 Monkhouse Street, Tolaga Bay, East Cape
From: 7:00pm on Saturday 16th December 2023
To: 12:00am on Sunday 17th December 2023